Step Up To Our Best Premium Complete Dentures
PREMIUM COMPLETE DENTURE $1,950 /set ($975/single)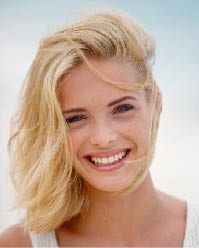 Step up to the ultimate in a natural looking smile with our Premium Complete Dentures. This is one of the best, most lifelike premium dentures available today, for a fraction of the cost of many other "premium" dentures. We use only the highest quality and most natural looking Lucitone 199 Acrylic, considered to be the gold standard for premium denture acrylic. Fiber striations in the acrylic and natural shading options give the Premium Complete Dentures a natural texture which simulates gum tissue. Gum contouring, full texturing & palatal ridges give these dentures a true lifelike appearance. This premium acrylic also offers unsurpassed breakage resistance, and a more precise fit.
Our Premium Complete Dentures feature Premium Long Lasting Teeth, considered the world's finest aesthetic premium denture teeth. Premium Teeth offer exceptional aesthetics and wear. Desired tooth characteristics are specially blended into 5 distinct color zones to give Premium Long Lasting Teeth a high enamel tranclucency and balanced opalencence for a natural look. Premium Long Lasting Teeth are available in a variety of sizes and shading options, including the popular bleached white shades, to complete your natural smile. The material in Premium Teeth is strong and designed to mimic the gradual wear of natural tooth enamel, for less wear and longer tooth life.
Custom-crafted the same day by our experienced denture lab technicians, our Premium Complete Dentures include a wax try-in for, precise fit and appearance. The Premium Complete Dentures come with a FIVE YEAR warranty against chipping and breaking. We also include a 6 month routine post delivery care that covers all adjustments, reline, rebase and repairs required at no additional charge (not included with immediate dentures).
When considering a "premium" denture, be sure it measures up to our Premium Complete Denture:
Fiber striations, Gum Contouring, Full Texturing & Palatal Ridges give Superior, lifelike appearance
Lower cost than many "premium" dentures
Highest quality Lucitone 199 Acrylic provide unsurpassed strength & breakage resistance
Natural striations and shading options in the Lucitone 199 Acrylic give a true lifelike appearance
Featuring Premium Long Lasting Teeth, the most popular line of premium denture teeth
Premium Long Lasting Teeth blend desired tooth characteristics into 5 distinct color zones
Exceptional tooth Enamel tranclucency and balanced opalencences
A variety of tooth sizes and popular translucent shadings available.
Popular bleached white tooth shadings available
Our Long-wearing Premium Teeth, look and wear more like natural teeth
Custom-crafted by our experienced in-house lab technicians
Includes a wax try-in at no additional charge for a precise fit, appearance & bite
Five Year Warranty against chipping and breaking
Includes 6 months of routine post delivery Care at no additional charge
In-house lab provides same say service

A $45 Oral Evaluation Fee will be charged in addition to the fees listed. A full Mouth Panolipse X-Ray ($99) or a Full Mouth Series ($105) will be required at least once every 5 years to identify cancers, lesions, or anything that may cause a problem with denture fit, function, or other health issues. For more information, see our Denture Process, or for same day tooth extraction and dentures, see our Immediate Denture Process.