A Natural Look and Functionality for Less
BETTER DENTURE $790 /set ($395/single)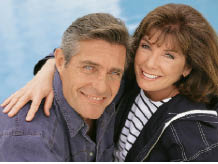 Our Better Dentures feature better teeth with our basic Vynacron pink acrylic and embedded fibers to simulate gum tissue. The gum line is also contoured for a natural look. Better teeth offer good aesthetics and wear.
Custom-crafted the same day by our experienced denture lab technicians, our Better Dentures include a wax try-in for, precise fit and appearance and comes with a TWO YEAR warranty against chipping and breaking. The Better Denture does not include any routine post delivery care.
Our Better Dentures Feature:
Gum Contouring for a Lifelike Appearance
Better Teeth, for a Good Astehetics & Wear
High quality basic Vynacron acrylic and embedded fibers for a natural look
Custom-crafted by our experienced in-house lab technicians
Includes a wax try-in at no additional charge for a precise fit, appearance & bite
Two Year Warranty against chipping and breaking
In-house lab provides same say service
$45 Oral Evaluation Fee will be charged in addition to the fees listed. A full Mouth Panolipse X-Ray ($99) or a Full Mouth Series ($105) will be required at least once every 5 years to identify cancers, lesions, or anything that may cause a problem with denture fit, function, or other health issues. For more information, see our Denture Process, or for same day tooth extraction and dentures, see our Immediate Denture Process.
COMPREHENSIVE CARE PACKAGE......................................$355/set ($245/single)
This package is for any first time denture wearer, or anyone who would like to have a year of routine post delivery care. It includes placement of tissue conditioners between the denture and the gums as they heal and change. It covers any necessary adjustments, office visits and one permanent hard reline at the end of your healing period. This package is good for 1 year.
NOTE: The Comprehensive Care Package is included in the cost the in the Premium Complete Dentures only. See Premium Complete Dentures for more information.